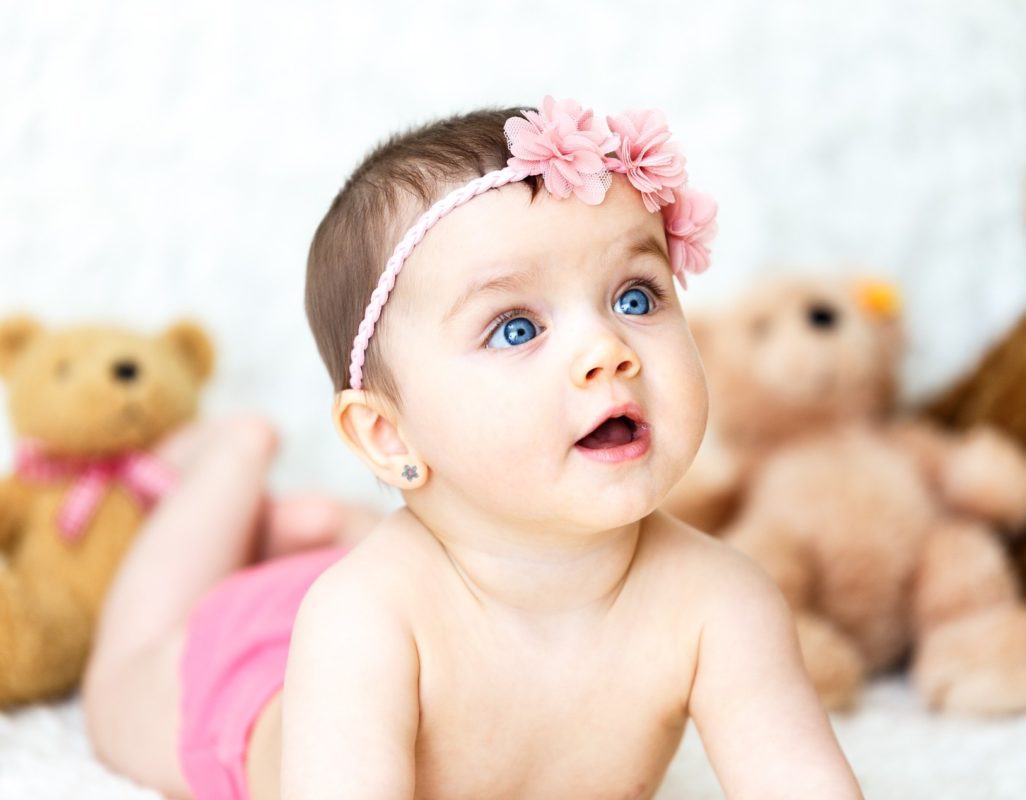 Are you ready to pierce your baby's ears? Earrings on infants and baby girls are super adorable. We are experts on baby earrings, so here is our advice.

What Earrings are Best for Baby?
For her first pair of earrings, we recommend earrings with screw on backs. Screw back earrings have threaded posts (like as screw does) and nuts that twist on and tighten once fully screwed on. These screw back pieces stay firmly in place once tightened, but like all screws, can start to loosen up after time, so they need to be checked every now and then and retightened if necessary. A good screw back earring for a baby will stay safely on her ear and she won't be able to take them off herself.


Our screw back earrings come with covered screw backs, which means that the screw back piece encloses the post. The end of the post will not stick through. This means that your child will have super comfortable earrings when she sleeps or leans her head against something. Our premium quality screw back earrings are highly recommended for her first pair of earrings. They come with an easy to handle screw back piece that is easy for an adult to put on her ear, yet hard for her to get off. The back is less likely than any other type of earring to fall off, so you can say goodbye to lost earrings and you won't stress about them being a possible choking hazard.


What Size Earring is Best for Baby?

For her first pair of earrings, choose a petite earring design that looks appropriate for her tiny earlobe size. If she is a newborn, remember that she'll be bigger in no time, so the earring design shouldn't be too small. Genuine diamonds however look beautiful in any size and are a beautiful earring choice for her first earrings. Family or friends looking to buy a special gift for a newborn often choose a diamond screw back earring. Diamonds are exquisite and timeless.


Keep in mind as well that every baby has a different sized earlobe and shape. Some babies have really large, round earlobes and other babies have very tiny earlobes. Just because she's a baby doesn't mean that her earlobes are super small. For an infant, we recommend a 3mm earring. For older babies, we suggest 3mm studs, 4mm studs, or 5mm stud earring styles.


What Earring Metal is Best for Baby?

As for what metal to buy for her first pair of earrings, we do suggest 14K gold since it is hypoallergenic and most children wear it without any allergic reaction. Another popular choice is a rhodium plated sterling silver pair of baby screw back earrings. Rhodium is a form of platinum, so you are buying silver that won't tarnish and shouldn't cause an allergic reaction. The price point cant' be beat and it looks and wears like 14K white gold.
What Styles and Designs Are Best for a Baby?
As for style, we present to you our collection of screw back baby earrings that is unique and extensive. The classics and the trendy, or the cute and colorful…it may actually be hard to narrow down your choices and make a decision! You can count on us to bring you the best styles of earrings, all well-made. You can choose amongst styles that are plain gold or rhodium-plated sterling silver, those with genuine stones, earrings with AAA quality CZ stones for superior sparkle, and earrings with colorful enamel. As for the design, we have loads of styles to choose from. We have the classics like polished ball earrings or solitaire stones with a diamond, birthstone, or sparkly cz.  And we carry designs like pearls, flowers, hearts, stars, butterflies, and animals. The styles we offer range from super affordable to high-end. Many of our earrings are heirloom quality, which means not only will your baby wear it, but it'll be that piece of jewelry she'll treasure as she grows up, keeps in a special keepsake box, and will hand down to her own daughter one day.  A high quality earring never goes out of style and precious metal jewelry like gold and silver always have inherent value.


Where Should I Buy Baby Earrings?

So if you're ready to buy her first pair of earrings, you've come to the right place. We're happy to answer all of your questions or even to help you decide which pair of earrings to buy online. We offer amazing personalized service. Just email us with your questions or the sku numbers of the styles you're considering, and we'll give you our opinion. When we correspond with you, you'll see that we really "know" our jewelry well. You'll receive a customized, personal response. We want you to have an awesome online buying experience at The Jewelry Vine and to say, "This is exactly what I was looking for," when you receive your baby earrings. Happy shopping and we look forward to having you as our customer!